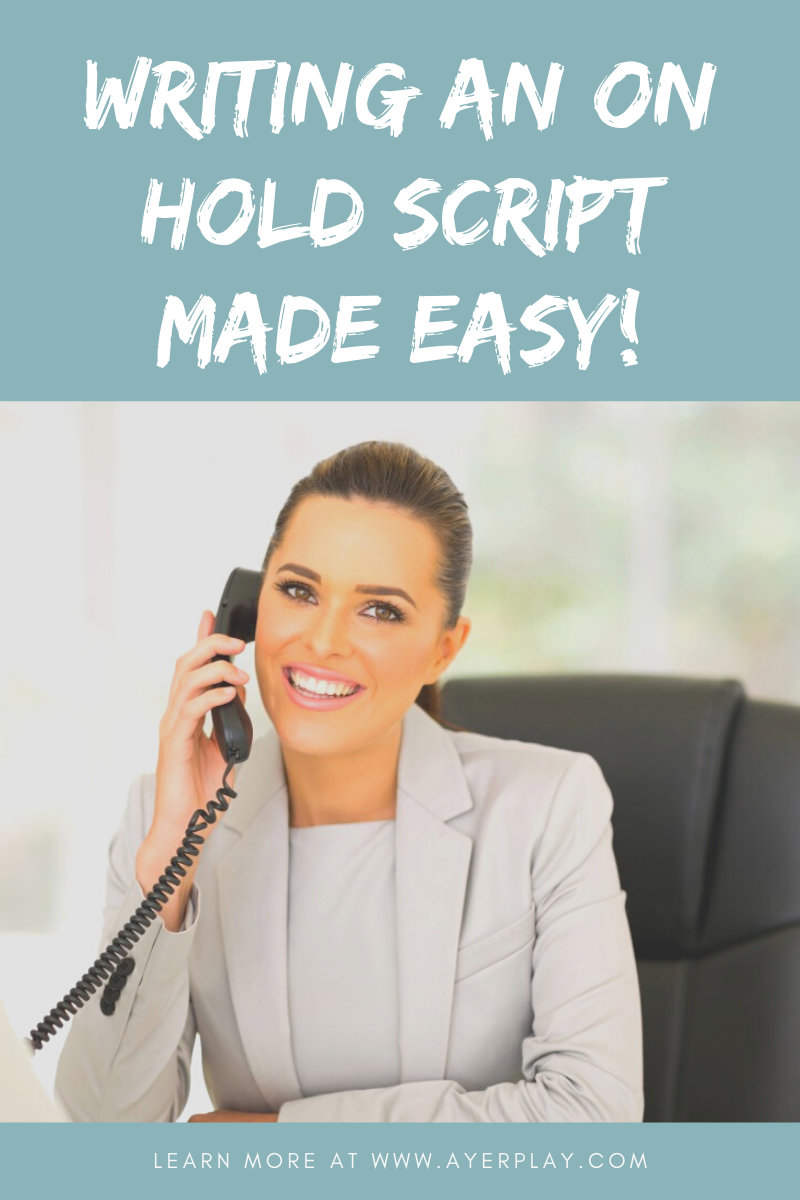 On Hold Script Tips!
When writing an on hold message script, one of the hardest things is just getting started.  But at AyerPlay, we do all the work for you!  Over the years, we've written hundreds of sample messages and have built an extensive catalog of message selections.  Each of these messages can also be customized for your business or practice.  And if we don't have a sample message that meets your specific needs, we'll custom write it for you at no extra charge.  All you have to do is provide us with some basic information or point us to your website or brochure that contains the information.
Here are just a few principles we use to get started.
Begin with basic information: "Thank you for calling Smith Insurance, conveniently located at 123 South Main, across from the high school. We're here to serve you Monday through Friday, 9 AM to 5 PM.  You can also visit us online at smithinsurance.com.  Thank you for holding.  Someone will be right with you."
Make sure you include information on all your important services. "At Smith Insurance, we're dedicated to meeting all your insurance needs with a complete line of products to cover you in every part and at every stage of your life.  We'll work closely with you to tailor a policy or group of policies that fit your needs, your goals and your budget.  In fact, you may be eligible for money-saving discounts when you have two or more policies.  Ask us for all the details. ­­"
Be specific in telling callers what your products or services will do to help them. "Life insurance can do wonderful things for people.  It can buy loved one's time to grieve and pay off debts and loans.  It can keep families in their homes and fund a child's college education.  It can provide a stream of income for a family to live on or keep a family business in the family.  Do you have enough life insurance to do these wonderful things for your family?  Talk with Rick Allen Insurance today about designing your personal life insurance solution.
Tell why your customers trust you. "At Smith Insurance, our success is built on our reputation for providing personal service and the best insurance value at an affordable cost.  It's also the reason so much of our growth comes from referrals from satisfied customers.  We appreciate your trust when you refer your family and friends to our office.  Let us know how we can assist you today!"
Including something fun, like a trivia message. "Did you know Alien Abduction Insurance has been available in the US since 1987?  Also known as UFO insurance, this type of policy covers you if you can prove you've been abducted by non-human life forms!  Here at Smith Insurance, we're still waiting for our first request!"
Also, if you have seasonal sales and changes, including these offers in your script ensures that you're offering your clients the latest products at the best prices. At AyerPlay, we'll use these basic tips to help you make sure your on hold is on message!  Your callers will thank you.
Ready to get started?
Ready to begin a fresh, new marketing plan for your business? Click one of the services below to get started!