AyerPlay On Hold Music and Marketing Services
Since 1983, AyerPlay has produced professional on hold message programs for 7,500 clients across North America. See what makes AyerPlay the industry's leading producer of on hold messages!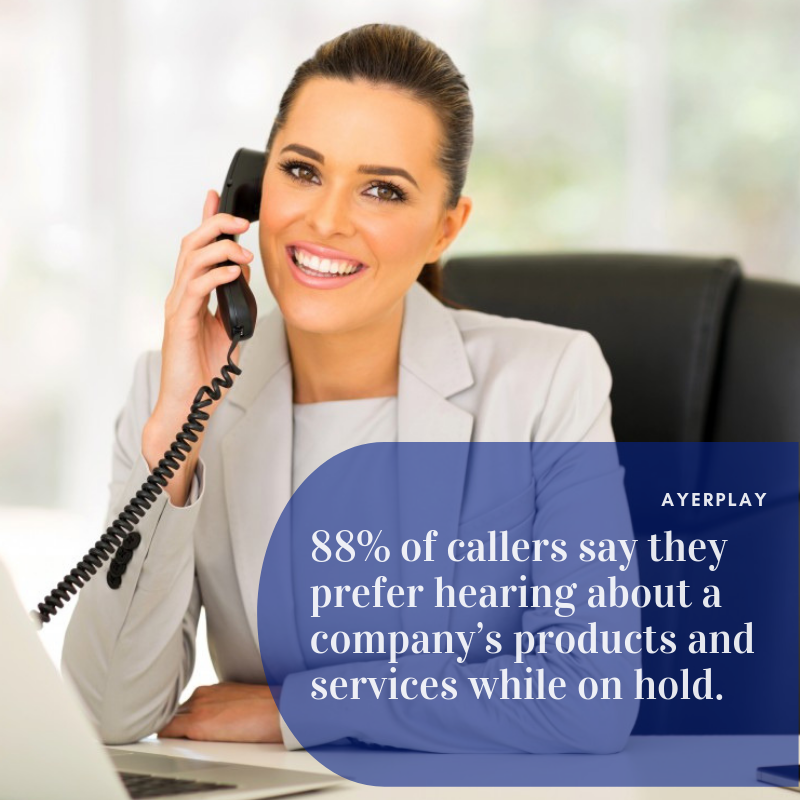 ON HOLD
In business since 1983, AyerPlay serves more than 7,000 on-hold customers, and is considered one of the industry's most respected leaders. Read more…
CREATIVE DESIGN
How your message looks can be just as important as what it says. Good graphic design shouldn't make you guess, and that's why our designers develop images with a strong, clear message in mind. Read more…
MARKETING & CONSULTING
At AyerPlay, we pride ourselves in having the capability to meet all your marketing needs. Let AyerPlay guide you to a simple, effective marketing strategy designed to get results. Read more…
AyerPlay provides exceptional on hold messages and music to thousands of clients all over the nation. With our on hold music player, your customers are more likely to stay on the line longer, hear about YOUR business only, and are more likely to utilize your promotions.
Benefits of AyerPlay On Hold Marketing Programs
Cost Effective Marketing
Cross-Promote Services
Marketing to Captive Audience
Introduce New Products or Services
Announce Special Offers
Provide Useful Information
Better Return on Investment
"24 YEARS is definitely a long term business relationship, and we're honored that Ayers Animal Hospital in Huntington, West Virginia has chosen AyerPlay to be their on hold message provider since March 1990!"
Contact Us
Contact AyerPlay today about our extensive list of services. We look forward to helping you promote your business!