Why AyerPlay On Hold?
---
When your corporate image is at stake, it pays to pick the right company. That's why thousands of businesses choose AyerPlay. In business since 1983, AyerPlay serves more than 7,000 on-hold customers, and is considered one of the industry's most respected leaders.
Whether your business is using a traditional phone system or a VOIP (Voice over Internet Protocol) phone service,  AyerPlay can continue to  meet your on hold program needs. For VOIP users, we will simply produce your on hold messages as an mp3 or WAV file and send to you via email for easy downloading to your VOIP system. The result is a professionally produced AyerPlay on hold program that tells your callers they made the right call!
AyerPlay is a major supplier for Nationwide Insurance, VCA Animal Hospitals, Coldwell Banker Real Estate, Vision Source optometric offices and more.
Compared to traditional advertising like radio, television and print, AyerPlay's on-hold services are extremely cost effective. And with over 35 years in the industry, our experience and expertise are invaluable.
Professional voice talent and copywriters
Licensed in-house digital recording studios
Experienced Account Executives
High customer satisfaction and retention rate
Equipment and program warranties
Foreign language productions available
On Hold Messages
Our customized programs are 6 minutes long and include up to 11 messages. A variety of packages are available–whether you need one program that plays year round, or you want to update your messages each month.
Voice Mail and Auto Attendant Messages
AyerPlay produces professional voice recordings for auto attendant and voicemail systems. Everything from simple greetings and menus, to complex directories and advanced announcements, can be recorded.
Our On Hold Music and Message Demos
We invite you to listen to our Voice, Music and Program demos listed in the playlist below. Music demos are listed first, Program demos are listed next, and our Voice demos are listed towards the bottom. Please click on a demo to hear a short sample.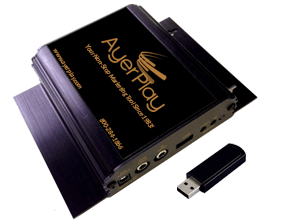 The AyerPlayer Digital Player
The Ayerplayer digital player is the only player we offer, because it's just that good.
MP3 audio format
USB Flash Drive – with your message preloaded
One (1) year limited warranty
Virtually maintenance free
Our Partners
With a strong commitment to customer service and quality on hold messages, AyerPlay has continued to be an industry leader, with over 7,000 clients nationwide.
Let AyerPlay help you target your clients with effective on hold message programs for your business.