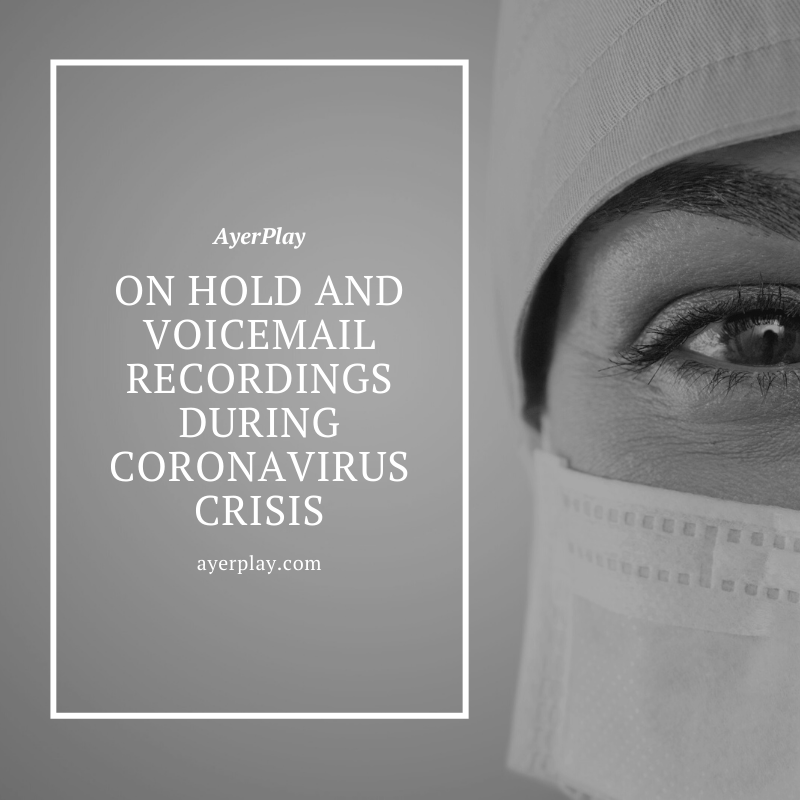 Importance of On Hold and Voicemail Recordings during Coronavirus Crisis
In this ever-changing world, all of us at AyerPlay want our on hold and voicemail clients to know we pledge to do whatever we can to assist your business. Like every other industry at this time, ours has been impacted as well, but please know we are doing all we can to follow the guidelines for companies during this Pandemic.
Our staff is working mostly from home and fortunately we have the capability to do that. Our Account Executives are all connected to our office systems and our professional voice talent team members are all recording in private locations including home studios. Whether it's providing custom On Hold Programs, Voicemail and Auto Attendant Recordings or other audio productions, we're able to offer the same professional service we've always provided.
We realize that keeping our business alive is not only vital to our employees, but to our valued customers as well. Our on-hold and voicemail clients are in medical, veterinary, insurance, financial and other essential and professional industries. We know it's more important than ever that they continue to communicate new and relevant information including new practices, operational protocol and guidelines in their businesses. AyerPlay is doing our best to meet each customer's individual on hold and recording needs as we all move forward during this Covid-19 crisis. Our clients are also telling us that their telephone hold time has been longer than usual, making it very important to provide those clients with relevant information while they hold.
Our copy writing staff is also continuing to monitor Coronavirus guidelines as they are often revised in our ever-changing world. To all our loyal clients please don't hesitate to call or email us with any questions as we all navigate this challenging time together.
Contact us to find out how we can help you today.
Email:  info@ayerplay.com
Call: 1-800-284-1866
Ready to get started?
Ready to begin a fresh, new marketing plan for your business? Click one of the services below to get started!