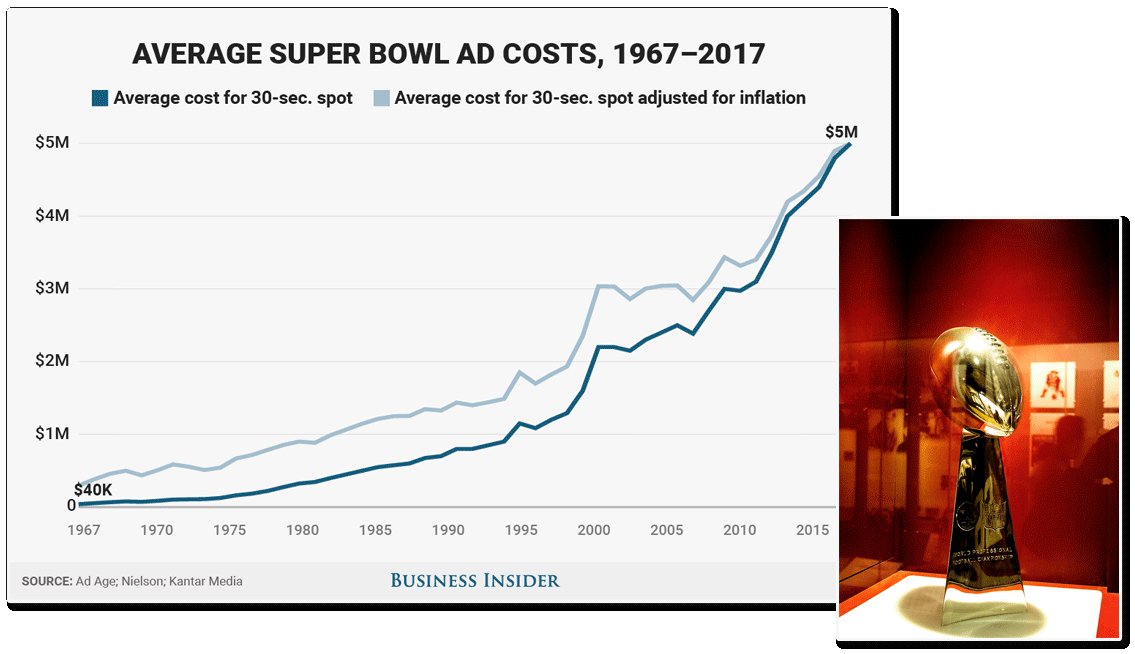 Even though you may not have a Superbowl sized marketing budget, it's time to strategize for 2018!
A marketing budget typically covers costs for advertising, promotion and public relations. The size of the business can usually help determine how much of its annual sales it spends on marketing. It also depends on the amount of money the competition is spending advertising. Depending on the industry, marketing budgets can range from as low as 1% of sales to over 30%. New companies may spend as much as 50% of sales for introductory marketing programs in the first year. Smaller business may just try to match the spending of their direct competitors.
Let's look at the costs of popular advertising strategies that many companies use.
With the Super Bowl coming up in February, we decided to look at the cost of some television commercials. According to Business Insider, in 2018, a 30-second Super Bowl ad will cost about $5 million. That's a whopping $166,667 per second! There were about 111 million people watching the game in 2016, so we can assume that these ad prices will not be dropping any time soon. Prices have gone up just about every year, starting at $40,000 in 1967. And according to Ad Age, $4.9 billion has been spent on advertising in the past 51 years of the Super Bowl.
After Peyton Manning and the Denver Broncos won Super Bowl 50, he became a spokesperson for Nationwide Insurance and even recorded a Nationwide on hold message for AyerPlay! As the Nationwide supplier for on hold messages, AyerPlay's Nationwide clients pay a fraction of the cost to have his recording for their on hold message programs.
The cost of an on hold system depends on what equipment you have. Many of our clients have VOIP (internet phone) systems, but many have players that are plugged into their phone box. These players can take flash drives and the older models take CDs!
Online we found that message on hold systems are typically billed as a yearly contract. Here at AyerPlay, all of our clients simply pay once for their program, and use it until they decide to update again!
If you're going to spend a few hundred dollars advertising, it's nice to be able to target messages to people who are already interested in your business. They've already called you, now let them know about your great products or services! It's a great alternative, especially when you compare it to the multi-million dollar Superbowl prices!!!
Ready to get started?
Ready to begin a fresh, new marketing plan for your business? Click one of the services below to get started!