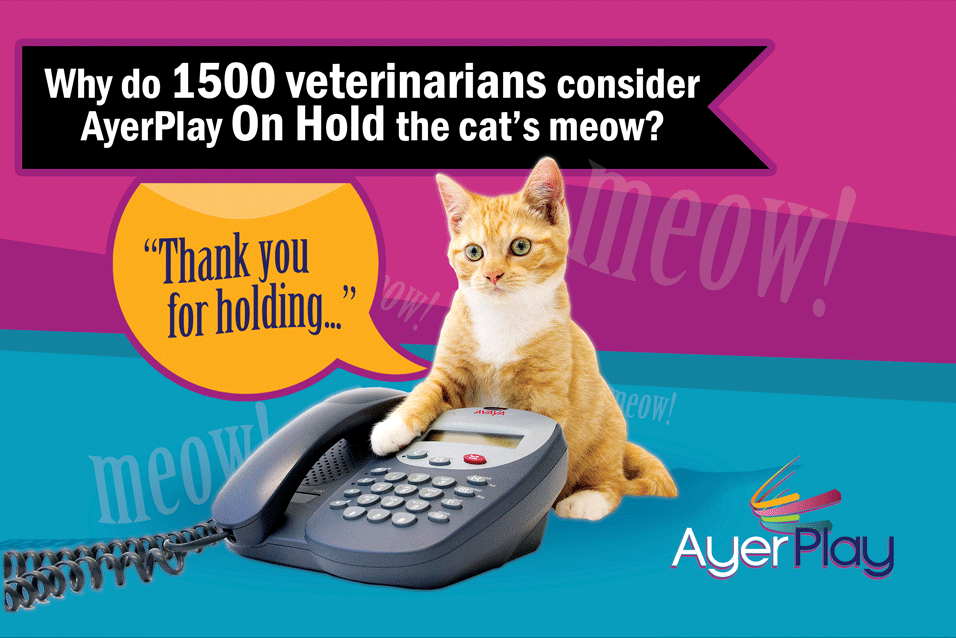 At AyerPlay, we love providing Veterinary on hold message programs to over 1500 clients nationwide.  Our vets feel on hold messages are vital to informing and educating their callers.  Let's face it, most practices sometimes need to put a caller on hold. In fact, a recent survey showed that 57 percent of callers are placed on hold. So the question becomes-how can  you add value to their wait time?
Callers are a captive audience, as long as they stay on hold, and it can be tempting to inundate them with advertising messages. But too much can cause callers to tune out.
While the promotion of products and services is important in a Veterinary on hold program, we encourage our vets to also focus on educating their callers with important pet health information.  For example, our programs often include information on wellness exams, canine influenza, protection against parasites, dental health, senior pet care, weight control and many other topics.
We also like to keep our Veterinary on old program fresh by updating seasonally. For instance during the holidays you can talk about tips on stuffing your pets stocking with safe treats and toys, summer reminders might include the danger of leaving your pet in a hot car and a spring could feature tips on treating allergies.
Another valuable addition to a veterinary on hold program is personal information about the staff.  Give your callers an up close and personal look at not only the veterinarians on staff, but other personnel as well.  This gives a nice family touch to a practice.
We also think it's important to add a little fun to the on hold mix.  We love including pet trivia in our on hold programs.  Here's an example: "Lassie was the fourth longest running U.S. primetime television series, airing from 1954 to 1973.  Despite the female name, Lassie was played by several male dogs because the male Collies were thought to look better on camera."
Your callers will appreciate the fun, and will likely not be inconvenienced by having to wait.
The right on hold messages will convert more callers into clients, instead of making them feel that you are wasting their time. And that of course, is the goal of a great Veterinary on hold message program!
Ready to get started?
Ready to begin a fresh, new marketing plan for your business? Click one of the services below to get started!