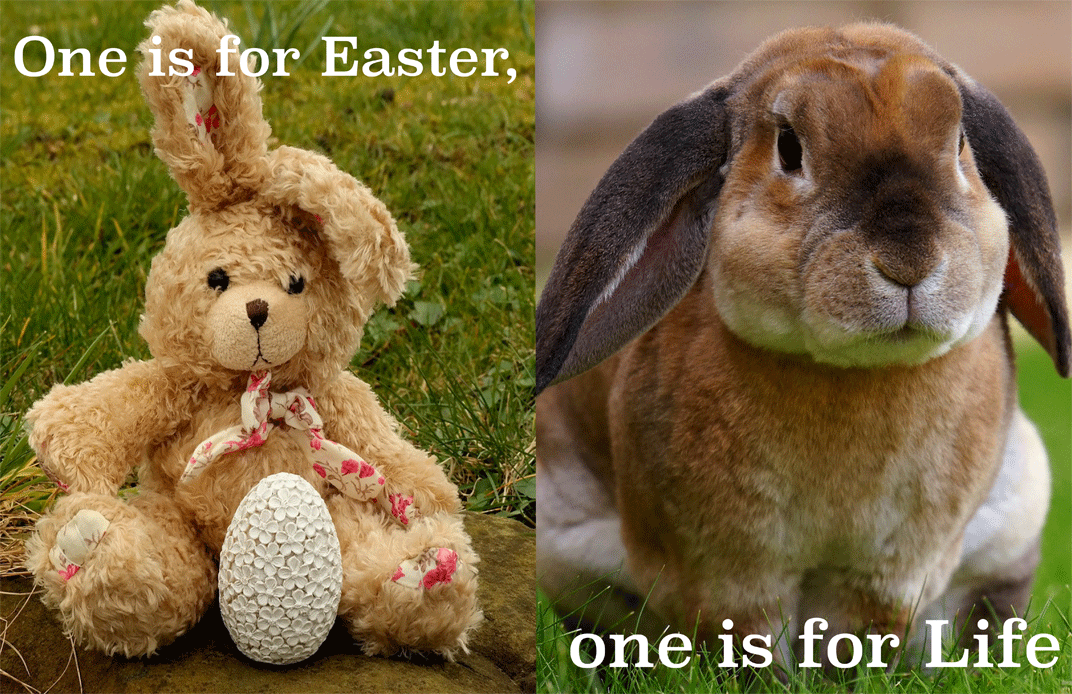 As Easter nears, we wanted to write a blog about a topic that is relevant to the holiday as well as near and dear to ours and many of our veterinarian's hearts as well.
The bunny, being related to Easter in America can be traced back to the 1700s when German immigrants brought the tradition of the "Osterhase" (literal translation: Easterbunny) with them. It was the tale of a rabbit that laid colored eggs. Ever since then, rabbits have been associated with the Easter holiday. Many people purchase pet baby rabbits around Easter time as gifts for children because they are small and cute.
Rabbits, however, are not a good gift for children as they are extremely fragile animals. If they are picked up the wrong way, they can be severely injured. Rabbits also live up to 8-10 years, and can become quite a commitment! They are also expensive housepets because they require special veterinary visits to "exotic" veterinarians who are specially trained to care for animals that are not cats and dogs. This is often more expensive than a regular vet visit. Bunnies also require hay, fresh lettuce and other vegetables to maintain a healthy diet. All of this racks up bills that many people don't consider when purchasing a rabbit for $40 at a pet shop. As a first-time rabbit and long-time dog owner, I was surprised that the rabbit actually costs more than the dog does!
So when you're out Easter shopping for your kids, unless you want to make a nearly 10 year commitment for a little bunny, maybe select a stuffed animal one instead!
Not only do I feel really passionate about good care for bunnies, but of course our many veterinarian clients do too! Here at AyerPlay, our clients often request that we write an on hold message about certain topics so they can share specific information with their customers. Our veterinarian on hold message customers often select certain messages to specifically fit with their line of work, such as pet health care tips. At AyerPlay we can write specific messages for all of our clients to fit exactly what they would like their customers to know about their company. We strive to make our clients happy, and this is just one of the many ways we reach this goal.
Happy Easter!
Ready to get started?
Ready to begin a fresh, new marketing plan for your business? Click one of the services below to get started!