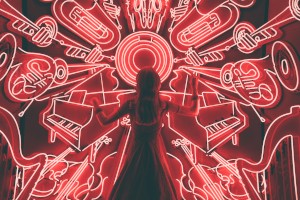 At AyerPlay we believe choosing the right music for your on hold message program is one of the most important decisions you'll make when it comes to giving your program a professional and polished sound.  To listen to all of AyerPlay's  music selections click here.  https://ayerplay.com/demos.  But how do you know if your message program is making the most of its music?  How do you know if your music selection is the right fit for your callers and your industry?
Obviously great content is the first step in producing your program, but music is a close second.  First, carefully read through your messages and determine the style of writing. Ask yourself some questions: Is my program funny or light-hearted, or is it more of a more serious nature?   Light Jazz, Soft Rock or Country might best be suited for a lighter toned program, while Easy Listening or Orchestral could be the best fit for a more serious program.  Whatever music you choose, it should match the content of your messages.
Next it's important to consider your industry and your callers. At AyerPlay we produce many medical related programs.  Patients that might be concerned about a certain health issue will more likely relate to a professional, informative and educational message program.  These callers need to hear something comforting and reassuring. AyerPlay's Acoustic music featuring a light guitar sound fits this bill.
Our veterinary on hold programs offer lots of healthful information in caring for your pets.  These messages are often lighter in tone than our medical programs and call for more light-hearted sound.  Many of our vets seem to like our Soft Rock music.
Another important consideration in choosing the right hold music is effectively matching it to your voice talent.  At AyerPlay, we have a number of experienced, professional voice talents to choose from.  You can listen to these on the same demo page as our music.  https://ayerplay.com/demos.
Listen to demos of our voice talent professionals, and match their style, age, and tone with your music so the two can complement each other. For example, a younger voice might work best with a more light-hearted program, while an older, more experienced voice works well with messages of a more serious nature.  AyerPlay gives our clients a choice between male and female voices, and for a nominal fee you can choose both for your program.
Paying close attention to all of these factors will help assure that your company is making the most of its on hold marketing.  At AyerPlay, your experienced Account Executive will help guide you through all our selections.  And hopefully that's music to your ears!
Ready to get started?
Ready to begin a fresh, new marketing plan for your business? Click one of the services below to get started!